Often we do not know what to eat in the morning. What is actually healthy for us and where do we start?
Some are skipping breakfast, because we think that will make us more slim. We follow certain diets, because we think that will make us thinner faster and better.
The secret of healthy eating without gaining weight
The secret of eating is to eat healthy, no matter what the calories are. Because if you are eating healthy, you body likes it. You are more likely to bless your food and when you bless you food. You will digest your food easier and will lead you to a more slim figure.
Below a few examples of breakfasts that I make in the morning.
As a vegetarian/ vegan, I need to make sure that I receive all the right proteins. Furthermore, I am working 40 hours and in addition, I am maintaining The Mindful Magazine, which I do with so much pleasure and fun. However, energy is needed to create so much in one day.
Below you find breakfast with kiwi, blackberries, walnuts, almonds and goji berries. You can make your breakfast as nice as you would like.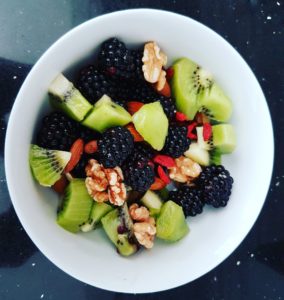 On the picture below you find pure chocolate, with green and black grapes, mixed with walnuts, linseed and sesame seeds. Linseed is very good for your digestion and pure chocolate is a pure mood boost. It is a perfect combination to start your day!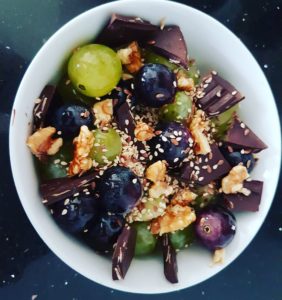 Nothing above fresh pumpkin bread from the bakery. On top of the bread I put tomato, avocado and cucumber. It is a perfect way to start your day and it will fill you up for sure!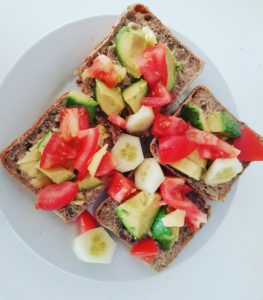 As a Dutch person I love bread, so there it is again. Pumpkin bread with fresh strawberries and coconut flakes. Together with a fresh smoothie with green grass powder, spinach, carrot, orange juice, lemon and water.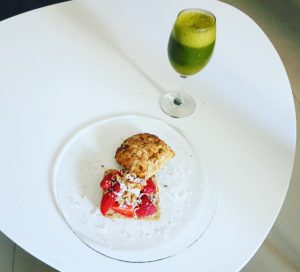 Fresh spinach, golden kiwi, avocado, coconut liquid and almonds. Are your ready to start the day with this healthy bowl. After this few examples, you get the hang of healthy food. I am sure you body will be more than happy to receive it! It will provide you with lots of energy, and you won't be hungry any time soon. It will also prevent you from eating more sweets. Spinach provides you with iron and proteins. Yes! Exactly, plants contain of a lot of proteins as well.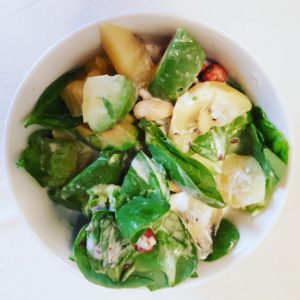 Smoothies and juices, are fantastic for the ones that do not like to eat in the morning. I bought this amazing blender, that you can carry anywhere and anyplace. The best for smoothies and juices is to have a base of banana and/ or avocado. Then you have enough sweet to add other ingredients. In order to have a good balance, add more fruits than veggies. Good vegetables to add are spinach, kale and broccoli. It does not seem delicious at first, but all together it provides you with a delicious flavor. You can add, blueberries, blackberries, grapes or anything you want. Frozen fruits or fresh fruits, it doesn't matter. It will sure give you an energy boost. Life is fun!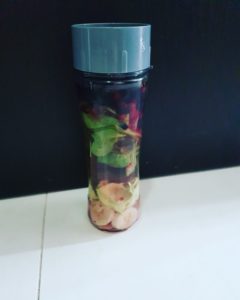 White bread/ baguette is maybe not the most healthy choice, but come on we do have to live from time to time. Delicious freshly squeezed orange juice together with a fresh baguette from the bakery with spinach, banana, strawberries, coconut flakes and walnuts. Are you ready, for the day. I sure am with this one! All these breakfasts that I have showed, could also be prepared for lunch. That is all up to you!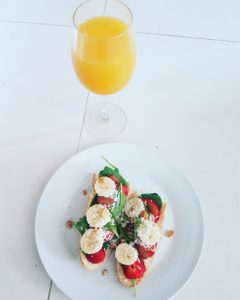 Last but not least, a full plate of fruits and nuts. Blueberries (great antioxidants), melon, avocado, banana, almonds, sesame seeds and linseed. As you can see I am repeating some of the products, but it is a waste to throw things away. So make new creative combinations that make you feel happy, younger and energized. With good food you will not only look better and younger, it will also give you the right shape!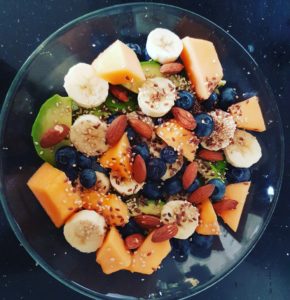 I hope I have inspired you to eat more healthy, and that is doesn't have to be difficult to prepare. All of these breakfasts/ lunches are very quickly done. I wish you good luck with finding your own healthy balance. There is no right or wrong, just listen to what your body is asking you for. And I do not mean excessive cravings, to ignore your true feelings. But the craving your body really yearns for!
I know you can do it and I wish you a great day!