In this article Adam Sprague is explaining about his investigation to help Nursing, Radiology, and Sonography students graduate by means of mindfulness.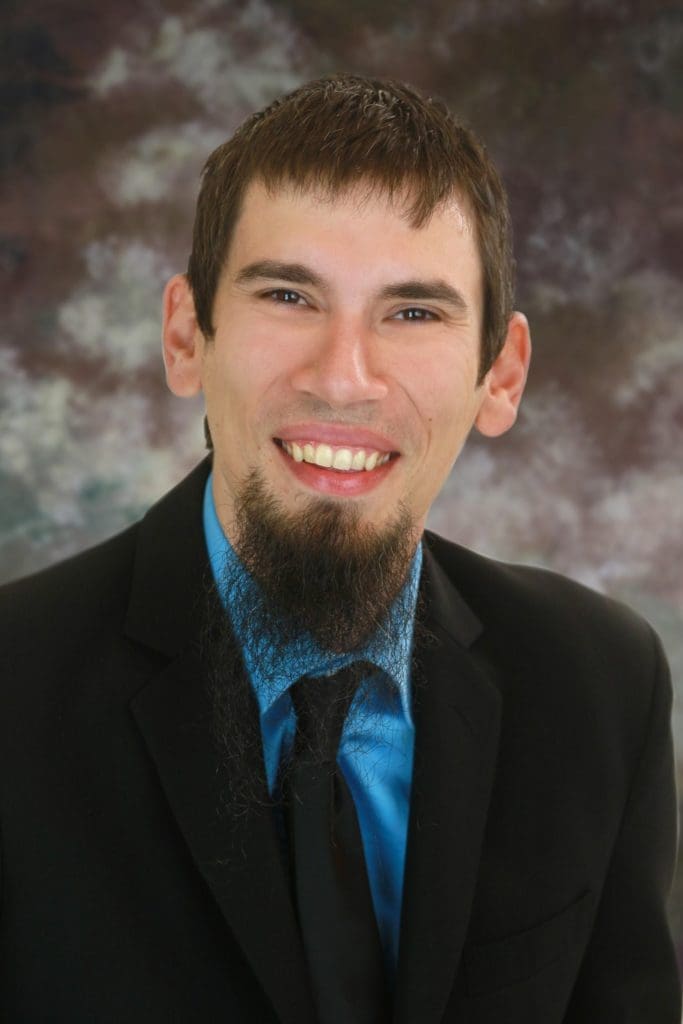 As I am intrigued by people that are working on a better world and better health of people, therefore, see here their article which is a true inspiration! Hopefully, other schools will also apply mindfulness into their curriculum, after reading the good results of Adam's research of meditation and mindfulness among students.
Mindfulness Article/ Investigation of Adam Sprague
Formed in 1909, Bellin College (BC) has now been educating future health professionals for over 100 years, offering degrees in nursing, radiology, and sonography. However, in 2017, BC was struggling with the sobering reality that only 59% of its undergraduate students were graduating.

In 2018, I was hired by BC to teach at the college and also create and coordinate a brand new Student Success Center focused entirely on providing resources to students to help them succeed and graduate.

After speaking with several of my colleagues as well as the President of the college, it was clear to me that a large part of facilitating student success at BC meant educating students about mindfulness along with providing students with opportunities to practice mindfulness. This way, students could better manage their stress and anxiety levels on their own.

To do this, I hosted BC's first mindfulness intervention (MI) workshop titled, "Simply Being," that was held in the Student Success Center toward the end of 2018.
Highest stress and anxiety rates in health field studies
But why did our students, in particular, need mindfulness practice? While all students struggle with anxiety and stress, studies repeatedly show that students enrolled in programs related to the health field have a greater risk of developing unhealthy stress levels, severe fatigue, academic burnout, and are also at an increased risk to develop mild to severe depression during their enrollment.

This has led to numerous colleges and universities introducing mindfulness and yoga courses to their students in hopes that the classes will help them manage their stress.

With that in mind, BC held its first MI workshop during the Fall 2018 semester and had 25 students attend. At the start of the workshop, I had all students complete an anonymous survey that asked them to rank their current anxiety levels and views toward meditation.
Meditation techniques with the students
Next, I provided a brief explanation of the goals of meditation along with an outline of belly breathing techniques that the students then practiced with me prior to beginning the session. As the leader of the session, I then described my own "MSFYT" acronym and technique for reducing tension in the jaw and shoulders, which simply stands for "Make Space for Your Tongue."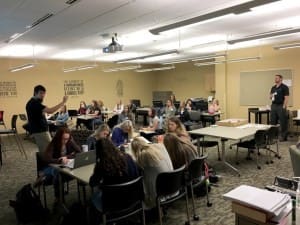 Students practiced how the simple act of creating space for the tongue between their teeth could reduce jaw, neck, and shoulder tension. The students then sat on pillows and yoga mats while they listened to a 30-minute guided meditation that I previously recorded in a public park in Green Bay, Wisconsin.
Results of meditation answered in a survey
Following the conclusion of the meditation, students were gently brought back to their surroundings. Shortly thereafter, the same survey was once again given to the participants so that any change in students' anxiety levels and opinions about meditation could be easily measured once again.

The two surveys were identical in every way except for the fact that the second survey also included a final short answer question that asked students to explain in a single paragraph how the MI impacted them personally.

The most significant finding on the surveys was that students reported lower average scores on all eight questions about their own anxiety levels, proving that the audio-recorded MI did provide immediate anxiety relief for the students who participated in the session.
Students felt more calm after meditating
When students were asked if they felt as though they were completely calm after they meditated, that score was much higher than before they began.

A final point worth mentioning here is that there was also an increase in the number of students who believed that meditation can reduce anxiety after the session ended. In other words, a single meditation session significantly impacted students in real, measurable ways.

While the survey results paint a clear picture of decreased student anxiety, the students' written responses on the second survey shed a more personal light on how meditation directly helped the students that day. Students wrote:
Results/ comments of the students
I feel very relaxed . . . meditation helped my anxiety.
I loved the metaphors and wording . . . I feel very happy.
It helped me relax and take my mind off school, which is stressing me out.
It gave me a second to sit back and breathe and realize all my problems are only
temporary.
This helped my anxiety more than the medication I am on.
This helped me relax. It was my first time meditating and I plan to do more sessions.
I never thought I would need this. I feel more relaxed and in control of my
anxiousness.
Before meditation my watch said my heart rate was 104, after it was 72 which proves to me this works for me.
The tension in my shoulders disappeared.
Breathing through my stomach was new for me. It helped my muscles relax, so right now I am not anxious anymore.
I hit a pole in the parking lot this morning and was in tears. After this I am less stressed and looking forward to the afternoon. I was going to just go home after this.
Meditation made my mind less full. I'm ready for Biology now.
Conclusion of the mindfulness research among health field students
In sum, the center's first meditation session was a massive success for our students. Per a 2019 campus-wide survey that asked BC students what they would like more of in the Student Success Center, mindfulness sessions were the most requested by students.

As a teacher witnessing the yearly rise of student anxiety levels, MIs could be the answer to this growing problem. After all, our students' comments highlight how a relatively brief, 30-minute MI can provide immediate, positive benefits.

The session directly reduced students' anxiety levels, increased their feelings of calmness, and helped students realize that by practicing meditation for just a short time, or even for the very first time, you can immediately better your overall mood.

Imagine the benefits for students if we could make mindfulness a regular, consistent part of their day. Would student anxiety decrease? Calmness and confidence rise? Would graduation rates increase? Incidents involving bullying and violence decrease? BC intends to find out.