Interview Siddhi Mehta
In this amazing interview I am talking to the wonderful Siddhi Mehta, owner of Rhythm 108, a company that provides the world with organic and healthy snacks. A perfect example of someone who became completely in alignment with her purpose! She explains how the process goes with the production of the organic snacks and her view on mass production. Read/ watch her story here:
Could you tell me a bit more about yourself and how you started Rhythm 108?
Yes off course, so I'm Siddhi and I'm the founder of Rhythm 108 we're essentially a company that reinvents your favorite sweet snacks but with wholesome and nutritious ingredients.
Like this you never have to miss out on the fun. So what that means is, we take biscuits, we take chocolate bars and snack bars and we kind of reinvent them. Instead of butter and wheat we use things like nuts and fruits and dried fruits and whole grain oats flower. We create your favorite childhood treats.

I guess I started this company, because I personally started rediscovering the life of slow living. I always lived in cities and when you grow up in a city often the connection to food is more of a function, that is what I thought food was.

Then I happened to move to Switzerland close to the Swish Alps which make me discover the kind of a wonder they have and the simplicity that they instill.

I started connecting more with nature and I discovered a lot of the farmers markets and like the food culture in Switzerland which is very much based in craftsmanship.
So exploring that process that it is not about the function of food but a way to express your creativity and connect with other people.

I literally started at home and I made the first batches of my products and I took it to a Sunday market on a really cold day in December. Despite the cold, we sold the first 103 pieces and that's how it all began.

From where did you move to Switzerland?
I was in the Middle-East for about 2 years as a Management Consultant and before that I spend some time in Bombay and before that I was in Belgium and the UK, so I moved around quite a bit.
How does the process of the organic products go now?
So we really took the company step by step so I started at home and then as the volumes grew, we went into a shared kitchen which is actually owned by a small chocolate and patisserie shop, so we share the kitchen with them.

I just use some of their medium sized bakery equipment, same as I did at home like mixing crushing baking and packing.

When we grew out of that we moved into our own bakery so essentially the process is the same as when you do it at home but we just have slightly bigger equipment now.

Our production team consists of patisseries that are trained and we want to bring in and maintain the craftsmanship into the products.
What does a day look like in the bakery?
At the moment we have 7 patisseries and bakers that are working in the bakery. The day really starts off early for them, so the first person comes in at 4 AM in the morning. They starts producing, weighing, forming and crushing the ingredients.

Every day is different, but for example yesterday, I catch up with some emails in the morning and the others start with the production. We do our planning, what we check out our our orders are and we think about the most efficient way to send them out.

I can tell you that right now we are working on a new product launch, it will be out in a few more months, so behind the scenes we are working on that too.

Where can people buy your products?
We sell at the moment in Switzerland and the UK, so those are the 2 places where you can really find the physical organic shops where you can buy the products and some places they are selling our products in the big supermarkets like Sainsbury's.

We have an online shop for Rhythm 108 that will do European and even Worldwide deliveries.
Mass production vs. organic food
Absolutely, so the food industry today has a lot of large players that mostly were founded a hundred or 80 years ago with the idea of producing food that was reliable and affordable and it was standardized, so the chocolate bar that you ate 20 years ago from a company would have the same flavor as the one you are eating today.

They were more focused on sufficiency, price and costs, we call it top-down call in consultancy. They see a market, they figure out the most efficient way to put out a product.

Lot of natural compounds were removed and replaced with cheaper supplements to make it taste the same but you can cut out some of the costs.

I guess my opinion is, that in the world today we want to be somewhere in the middle. We want to preserve the craftsmanship and appreciate the uniqueness and the organic ingredients of the product, but we keep the efficiency of the delivery of the product from mass production.
Organic Packacking technology
Packaging technology have been developed over the last few years and we can re-look at the food industry and modernize it, which works for people in terms of wellness and in terms of the environment.

We do work with co-operatives who are farming organic and they are increasing their scale to do so, they are learning how to do it better and better.

We want to be part of the change, and the more you can create a market for it and the more people move along with the change and get to the middle change of mass production and organic products.

What does GMO mean?
We are certified organic, what that means is that you can't use GMO's
(Genetically Modified Organism) in the ingredients that you source. GMO's often are very much associated with intensive agriculture.

The reason we chose to be organic, because we want to support an alternative system to agriculture that supports the environment as well. We believe that the solution will come from many angles, but one of them is organic production.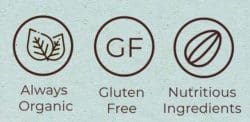 There was a report in the UN that it is great at feeding population, but it creates soil degradation. Over 1/3 of the land the land is degrading and therefore, it is not sustainable in the long term. If we want to make changes, and preserve the environment, we have to change the process.

A lot of farmers had to quit their businesses due to the fact that there is a lot more mass production that do not add organic products, and I hope that the people that are reading this are inspired to buy more Eco-friendly products.

Eating organic food has a lot of health benefits as you can eat ice cream or cookies without having to watch your weight so much.

It is something you can enjoy fully without something that is filled with sugar and unhealthy replacements. Everyone has an impact on the world's environment and it takes very little.

How did you pick the flavors?
Chocolate walnut brownies, was one of my favorite flavors when I was younger. Therefore, I got inspired by creating this flavor to the organic snack product line.

My mom used to make coconut flavored biscuit, which she made for me and my friends and we all enjoyed it. Today one of our organic recipes is coconut cookie sharp-eyed.

The inspiration really came from from what I see around me and what people enjoy eating. Also the team really inspired me with their stories and we tried to combine those flavors into new snacks.
What do you think about the diet in the Western world?
Industrial manufacturing, is something that has been happening like the promotion of low-fat products in the big magazine and papers.

They will advertise to only eat this and eat that, and it becomes this massive trend. I personally feel that every body is very different. The best nutritionists out there would test what your body needs and add slowly products to it to see how your body reacts.

Every body should be very unique, but I think customization needs to come in and people see through now that the big magazines are propagating and that people learn what their bodies are saying and what they need in order to live a healthy and balanced life. And create a diet that suits them.
What would be your ideal future for Rhythm 108?
I always think of us about the impact that we have, when more people buy our products we touch more lives. That means we can work with more co-operatives and farmer families to get our organic products from.

What I would love to see in the future is to see that we grow and that we focus on our sourcing as well. I would like to experiment with home compostable packaging.

I want to provide solutions for packaging and keep growing at a steadily and keep improving the process. Also we want to keep making delicious snacks with top quality.

Do you have any mindful tips on how to choose your food?
Learn to enjoy your food and do not see it as a function. Do not think of food as only calories, fat and carbohydrates.

Learn to enjoy it and understand that it took a whole journey before it is on your plate. Food connects people together and that do not forget how amazing it can be, just be mindful about it.
Thank you Siddhi for your amazing insights!
I am truly grateful to have spoken to such an inspiring individual and I hope that you will have a look at her website and her products as they are truly amazing.